Motiviational Program
Linda why speak? Why now in your life choose to share your story?

"I hope to motivate and inspire others to seek their God given gifts. Take that first step, reach for your goal, follow your dream no matter how hard it looks or how much you have struggled in life. Don't wait or put it off!"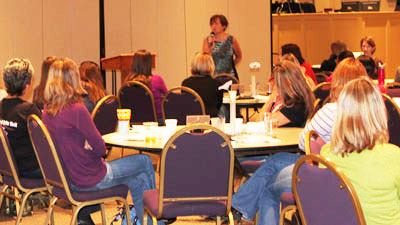 "Like me, you may have said", "I want to be used by God, but I have nothing to offer," or "I have always wanted to, but..."
"All God wants is a willing heart. If I can do it, anyone can! It is written in the Bible, Numbers 22:28, that God made a donkey talk to get his message across."
"He can use all of us. You will be amazed and delighted at what God will do with what you already have. I could write another book about what has happened in my life since I wrote my first book. And I just might!"

Who do you hope to reach?

"My programs are for children of all ages 6 to 106! I have spoken to AARP Groups, Lions Clubs, Mother/Daughter Teas, Retreat/Seminars, CCD Classes, Sunday Schools, Vacation Bible Schools, Christian Schools, Public Schools and Universities."

To request additional information or to schedule a presentation please utilize the contact form.